MADE IN USA!
FREE Delivery & Installation
Metal Garages
We Accept Visa, Mastercard, Discover & American Express
Metal Carports
Affordable - Professional
Guaranteed Work - Insured
Metal Buildings
The most important aspect of metal as a building material is the great flexibility of design.
Metal Barns
A metal Barn gives your livestock and equipment the shelter it needs.
Steel Carports
Protect all your vehicles... cars, trucks, RVs, equipment, boats, jet skis and more...
Why Horse Barns Are Not Optional
A Horse Barn Can Handle Your Weather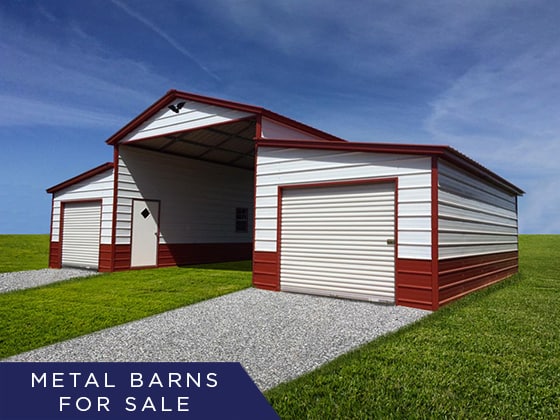 Your animals are essentially exposed to the elements and the accompanying variable temperatures, which is why horse barns are an essential structure, even if you keep them in a large fenced-in area.
An ordinary spring or summer day soon becomes too hot from intense sun, while the cool conditions of late autumn or early winter veer toward colder temperatures on a whim. And, at all times of the year, precipitation in the form of rain or snow is always a possibility. In all of these cases, your horses or livestock require appropriate shelter, but if you need a quick and affordable structure, what are your options?
Metal barns based on the framework of a portable garage are one possibility. As an asset, these structures can be ordered and set up quickly. In terms of holding up to the elements, these structures consist of a galvanized or powder-coated steel frame and metal that covers the top and at least two sides. For full stability, these structures must be anchored into the ground, or else they'll be far more vulnerable to the elements.
Although convenient, these structures have virtually no downside. First, they last for many, many years with a minimum of maintenance. Just a quick wash with a hose or power washer and these steel barns will brighten up just like new. Second, structures with galvanized steel frames will last almost indefinitely. Third, they reflect heat, handle wind and hail, and have a high snow load that protects your livestock from virtually anything nature can throw at them.
A horse barn will provide better stability than other portable temporary horse shelters. By design, they are a solid structure of galvanized metal frame, metal top, and code-compliant trusses. While this design creates a more robust shelter from the elements, it also lasts longer and offers greater versatility.
Quick, Convenient And Free (Delivery And Installation)
Assuming the horse barn is to be used as a loafing shed, the kit can be set up in less than a day. Along with all parts needed to create the horse shelter, each metal barn kit consists of materials for fully installing the structure and blueprints for full directions. A set of tools is all a builder needs. But in reality, why would you want to do it yourself when the cost of installation is included in the selling price already? Free delivery is included as well.
Choices, Choices And More Choices
Manufacturers and retailers for these horse shelters provide several design possibilities. A buyer, in finding a steel barn, gets a choice of several sizes, and before placing an order, he or she can determine which offers the precise amount of space. Additionally, manufacturers and retailers present a choice of features. In addition to the basics, horse barns constructed out of steel can have cupolas, additional ventilation features such as windows, extra doors, and even a separate space for storage of tack and machinery like four-wheelers, among other custom additions.
Sealy, Cat Spring, Eagle Lake, Bellville, New Ulm, Austin County, 77474, 78933, 77434, 77418, 78950
FREE!
Delivery & Installation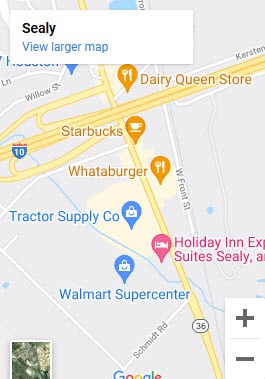 Monday: 9am-6pm
Tuesday: 9am-6pm
Wednesday: 9am-6pm
Thursday: 9am-6pm
Friday: 9am-6pm
Saturday: Closed
Sunday: Closed
Cashiers Check, Money Order, Visa, MasterCard, Discover, American Express