MADE IN USA!
FREE Delivery & Installation
Metal Garages
We Accept Visa, Mastercard, Discover & American Express
Metal Carports
Affordable - Professional
Guaranteed Work - Insured
Metal Buildings
The most important aspect of metal as a building material is the great flexibility of design.
Metal Barns
A metal Barn gives your livestock and equipment the shelter it needs.
Steel Carports
Protect all your vehicles... cars, trucks, RVs, equipment, boats, jet skis and more...
Steel Carports Give You The Advantage
Basically, though it is a freestanding steel framed canopy that provides protection from the elements to your cars. But it can be much, much more.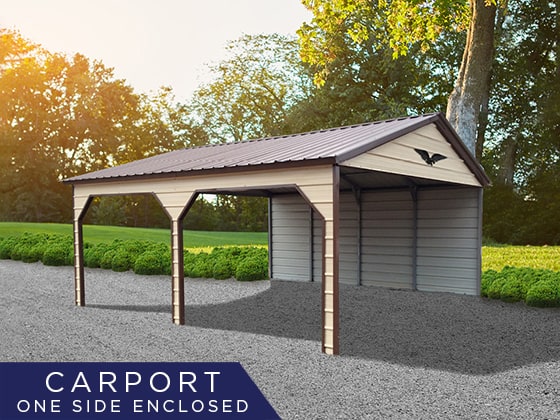 It can be used not only to protect your cars, but your boat, motor home, jet ski, tractor, or whatever you might want to keep in pristine condition. Not only is it long-lasting, but it is also cost-effective and portable.
Used as steel carports, it provides protection from fading from harsh sun rays, hail damage, bird droppings, tree sap, falling branches, and so on. Your car is probably one of your biggest investments outside of your home. So why would you spend tens of thousands of dollars on a car only to leave it at the mercy of mother nature? You don't have to.
Our carports are made of the best material, steel, for providing you with a durable, tough, attractive, and cost-effective way to protect that valuable investment. For just a few hundred dollars you can add years to the life of your car and keep it looking great for years to come. Why the money you save in car washes alone over the years will pay for itself.
So you have a lot of stuff you just can't part with but you are also tired of it cluttering up your house and garage. Are you afraid the guys from the show Hoarders are going to come knocking or that your family and friends are going to form an intervention? Well, there is a solution. A steel storage building.
Basically, it is a carport that has been completely enclosed and has an entry door. Beyond that, you can add a variety of other options to make it uniquely your own. Need more light? Add windows. Want to park your car, boat, or RV in there? Add the appropriately sized roll-up garage door. You can even add insulation, lights, electrical outlets, paneling, and more to turn your storage building into a workshop, mancave, or something more.
Most people who buy RVs don't have a garage or place to keep this very expensive investment. So they try to use a cheap vinyl or canvas cover that just ends up being a pain to take off and put on and rots and molds after just a season or two. Or they take it to a covered storage lot where they end up spending thousands of dollars a year and never being quite sure their investment is safe from vandals or thieves.
what to do? Buy one of our RV carport canopies. The small investment you make in one of these canopies is chump change when you consider the cost of the RV.
You don't buy what may be a hundred thousand to a one million dollar vehicle and then leave it to the elements, not when you can cover it for less than a couple of thousand dollars. Why the money you save in storage fees will pay for it in just a couple of years.
These are just a few uses you could find for a steel car port, you are only limited by your needs and imagination. Horse stalls, barns, pool covers, car lots, just about what ever you can think of these versatile wonders can cover for you. Call us today at 979-472-7776 today and talk to a representative to get all the options and expert help you need to get all the information on steel carports you want.
Sealy, Cat Spring, Eagle Lake, Bellville, New Ulm, Austin County, 77474, 78933, 77434, 77418, 78950
FREE!
Delivery & Installation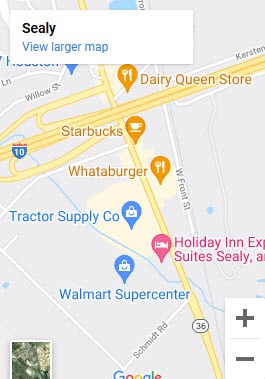 Monday: 9am-6pm
Tuesday: 9am-6pm
Wednesday: 9am-6pm
Thursday: 9am-6pm
Friday: 9am-6pm
Saturday: Closed
Sunday: Closed
Cashiers Check, Money Order, Visa, MasterCard, Discover, American Express