MADE IN USA!
FREE Delivery & Installation
Metal Garages
We Accept Visa, Mastercard, Discover & American Express
Metal Carports
Affordable - Professional
Guaranteed Work - Insured
Metal Buildings
The most important aspect of metal as a building material is the great flexibility of design.
Metal Barns
A metal Barn gives your livestock and equipment the shelter it needs.
Steel Carports
Protect all your vehicles... cars, trucks, RVs, equipment, boats, jet skis and more...
When something is cheap, you can expect they would certainly have low quality. This is not the case here. These are of superior quality and, despite their low prices, they are top quality.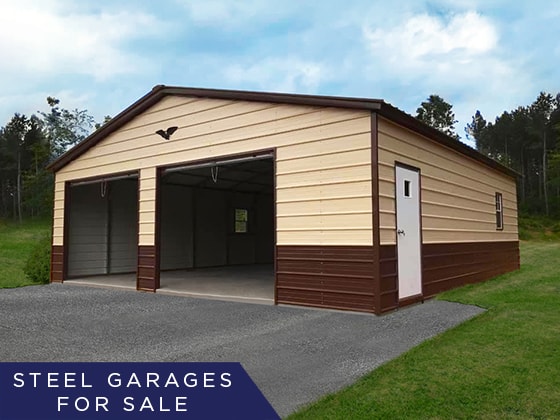 The material used in our garages is of superior quality. The fact is that they are passed through several quality assurance phases, which ensures their higher performance.
First, cold-rolled steel is used for making these garages and other metal structures. The idea behind this is that cold-rolled steel is lighter in weight compared to that of hot rolled. Furthermore, this material is passed through a special process known as galvanization. This ensures the metal has utmost resistance to rusting and corrosion.
The outcome is that the structure lasts longer and shines for longer as well. https://www.carportssealytx.com/garages/
Being fire resistant, a steel garage is a much safer option. So, the cost of insurance is also low. You can also have the benefit of protecting the building from excessive heat from the sun since it can absorb or dissipate heat very quickly. Additionally, the sheds do not attract termites or fungus-like wooden structures do which will rot and destroy your building almost before you see the damage to repair it.
Last but not the least, steel garages and sheds are very strong. As a result, they do not bend easily if force is applied to them which means that despite the lightness of the structure it is very strong and has a high tensile strength that keeps it from denting easily.
It all just goes to show that for more reasons than one, metal garages are a smart, durable, and safe option to keep your stuff safe for the long term.
If you have been having a hard time finding the perfect working area inside your home, then there would be an ideal solution. You would no longer need to do something in your home because all you need to do is to have these sheds constructed on your property.
Although having a garage or shed benefits you in a big way especially in the context of durability, low maintenance, security, and strength it doesn't mean that you do not have to worry about taking care of it. Even if you buy the best make, you still have to take good care of them. If you find any kind of damage, you should repair it as soon as possible so that it doesn't get worse.
You will also want to clean them with a power washer or a soft brush and hose every once in a while to maintain the luster and shine of the paint. If you do these things there is no reason why they cannot last indefinitely.
Steel garages are the ideal option to keep your stuff safe, from cars and recreational vehicles to children's toys, Christmas decorations, and lawn equipment. You can go for a model available in our packages or go for a customized option. In addition to serving as extra storage space, these structures improve the value of a home.
One of our garages is a fantastic example of steel properties. Some people visualize industrial purposes when they think of steel. But now folks are realizing that these make excellent residential outdoor buildings for their home or ranch. These are not simply for factories and warehouses. Versatile metal garages can be used to store not just cars but also trailers, boats, recreational vehicles, riding lawn mowers, and other costly equipment which is otherwise too big to be kept in the house.
What To Do When Ordering A Steel Garage
Prior to signing the contract for steel garages of any type, you should make sure that your structure passes all local building requirements. Making any necessary changes with the manufacturer at this stage will prove to be much easier and less expensive than being forced to alter plans or the building at a later date.
With the advancements and changing needs of people, these garages are available in various designs, shapes, and sizes. They give you the flexibility to modify the external look according to your personalized preferences. For instance, you can easily find designs that come in different shapes, sizes, and styles to best fit your needs and aesthetics.
These can solve a dual purpose by giving the look you want while getting the design you need. So, according to your tastes and needs, you can pick the one you like the most.
The second step for steel garages is the creation of the building plan. We keep in our database a wide variety of plans to best match what you want. Also, we have various addition you can get that will allow for certification requirements that typically cover the rated snow and ice loads as well as the capacity of the structure to withstand heavy winds.
Depending on the specifics of the location of the steel garage, certification can also be required for flooding and seismic activity. For a small fee, you can order certifications that are stamped with an engineer's approval and then only need to be submitted with the other applications and documentation required by the local zoning board or planning committee.
Conclusion: Why They Are Right For You
A steel-made garage will be a spacious extension to your home, enabling you to house not only your vehicles but also store pieces of greenhouse/farm/yard equipment. It can provide you with that extra workspace you may have been looking for. It can also be the venue for your house parties. Prefabricated garages are a comparatively inexpensive option than a brick and mortar structure.
Once installed, steel structures are relatively maintenance-free and offer remarkable resistance against harsh elements. These can be made to look more attractive with the variety of exterior finish options available now. These exterior finishes can make the garage an ideal complement to your wood, brick, concrete, or stone building.
Pre-engineered metal buildings offer you a wide variety of uses and options to choose from, ranging from retail steel buildings to steel riding arenas for horses. These buildings are excellent choices for building facilities because they are made from pre-engineered parts that require little time for assembly. The keywords here are versatility, flexibility, and durability.
Metal buildings are completely customizable and perfect for warehousing, barns, industrial steel buildings, riding arenas, steel garages, commercial metal buildings, etc. As a material, steel is structurally stronger, noncombustible, more stable, electrically safe, less expensive, and, above all, compatible with almost anything. Naturally, steel buildings have a longer life span even with less maintenance.
Thus steel buildings are incredibly easy to construct with minimal equipment or experience and can accommodate any standard or custom application.
Now the question arises, what are you waiting for? You have everything you need to order one so call steel garage Sealy TX today and ask us to tell you more about your options.
Sealy, Cat Spring, Eagle Lake, Bellville, New Ulm, Austin County, 77474, 78933, 77434, 77418, 78950
FREE!
Delivery & Installation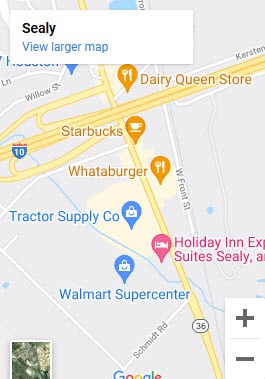 Monday: 9am-6pm
Tuesday: 9am-6pm
Wednesday: 9am-6pm
Thursday: 9am-6pm
Friday: 9am-6pm
Saturday: Closed
Sunday: Closed
Cashiers Check, Money Order, Visa, MasterCard, Discover, American Express